Nearly Samsung, nearly, but not just from you guys.
Due an upgrade on your phone contract? Looking to purchase a new high-end smartphone? Just pause for a moment. The second half of 2015 looks pretty busy when it comes to smartphone releases so before you go off and get yourself a lovely new device, take a look at what's coming in autumn and winter of 2015 before burning a smartphone shaped hole in your bank account.
OnePlus 2
Release date: 11 August
£239 (16GB/3GB RAM)
£289 (64GB/4GB RAM)
If you've never heard of OnePlus before, you're probably not the only one. Made by a small Chinese firm, last year's model, the OnePlus 1, was very well received in tech circles (not least for it's aggressive pricing) and proved to be 'fairly' popular selling approximately 1.5 million units. Not bad for a startup company.
Their second attempt at making a smartphone looks to carry through with their confident claim of the OnePlus 2 being a 'flagship killer'. It's sporting a slim design with options for the back cover being sandstone, bamboo, rosewood and even kevlar. Inside, it has a Qualcomm Snapdragon 810 (refined from the first version which had overheating issues), 3GB of RAM in 16GB model, 4GB of RAM in 64GB version, fingerprint scanner, 3300 mAh battery and 5.5" 1080p screen with 401 ppi. The rear-facing camera is a 13MP, f/2.0 lens with OIS and laser-autofocus and is capable of shooting 4K and slow-motion in 720p at 120 fps. Check out MKBHD's video
here
where he reviews the phone's camera. He calls it a 'pretty solid' camera and 'really good' at focusing but 'not the best camera on any smartphone I've used...but pretty decent.' Especially considering the price.
Because you can get all this from £239 to £289. That's unheard of. For a phone packing all this, you'd expect something in the £400+ price point.

It does however lack a few features which have become more commonplace in flagship smartphones. Firstly, the screen resolution is 'only' full HD, not QHD. Secondly, there's no NFC which is really taking off with Apple Pay and soon, Samsung Pay. Finally, there's no wireless charging capability and no quick charging support. You may care about these, you may not; the lack of a QHD display is something that would bother me as a OnePlus 2 owner.
The biggest problem though is not actually a hardware or software issue, it's actually trying to get one. OnePlus chooses to adopt a slightly unorthodox invite system whereby you have to sign up to be on the reservation list. You can also receive an invite earlier if someone has purchased a OnePlus 2 and sent you an invite. Currently, I think I'm number 450,000 so who knows when I'll get my invite to
actually
buy one. If you would like to sign up for the reservation list, click
here
. At least you could certainly claim exclusivity bragging rights amongst your friends...
Moto X Style/Moto X Play
Release dates:
Moto X Play: Late August £279 (16GB)
Moto X Style: Mid-late September £359 (16GB)
On 29th July, Motorola announced their two new flagships for 2015, the
Moto X Style
and
Moto X Play
. As it stands, the Moto X Play will only be released in certain markets (Europe, Latin America, Australia and Canada - no US) at the end of August whereas the Moto X Style (renamed the 'Pure Edition' in the US) will be released worldwide in mid-to-late September.
The Style is the bigger, fancier, more powerful and more durable of the two with a 5.7" QHD (2K) display at 515 ppi (pixels per inch). With its slim bezels, both the Style and Play boast a screen-to-body ratio of 76%~ which is best amongst popular, leading flagships. A Qualcomm Snapdragon 808 processor with 3GB of RAM powers the Style, it supports turbo charging and is splash and dust resistant with an IP52 certification. It comes in 16, 32 and 64GB internal storage flavours and has front facing stereo speakers like the HTC One and Nexus 6.
The Play is the longer lasting, cheaper version with a 5.5" 1080p display at 401 ppi, Qualcomm Snapdragon 615, 2GB of RAM, 16/32GB of internal storage and is only splash resistant with no IP certification. Most importantly however, it has a 3630 mAh battery (compared to the Style's 3000 mAh) which is unheard of; by comparison, the Galaxy Note 4 and Nexus 6 (both larger phones) only have 3220 mAh batteries. An added bonus is that it too supports turbo charging like the Style although neither the Style nor Play support wireless charging.
The physical cameras on both are near identical with 21MP, f/2.0 lens and a dual LED flash. However, the Style has a few extra software features including PDAF (phase detection autofocus), video stabilisation (no image stabilisation) and video recording up to 4K at 30fps (1080p recording is at 60fps). By comparison, the Play is limited to 1080p 60fps video recording, has no stabilisation and no PDAF. On the front, both come with 5MP 'selfie' cameras but again Motorola had to make sacrifices to the Play. The Style has an f/2.0, wide-angle lens, flash and larger pixels for better low-light performance; the Play has none of those features.
DxOMark
, the arbiter when it comes to evaluating camera sensors, gave the Style's camera a score of 83/100 (full review
here
), placing it joint second in their mobile rankings behind the S6/S6 Edge (86) and tied with the Note 4. The iPhone 6/6 Plus scored 82 whilst the LG G4, strangely, has not been reviewed. Considering that the Moto X Style will come in £150-300 cheaper than some of those handsets, that's quite an achievement. Still, expect the Note 5 and iPhone 6s/6s Plus to beat their current scores.
As it's a Motorola, it'll be running a near stock version of Android (but with added Motorola features such as Moto Display and Moto Assist) so expect very fast and smooth performance and quick updates to Android M and beyond. Both will support Motorola's Moto Maker, allowing for a plenitude of colour and material options (including wood and leather) as well as the option to choose micro SD card support.

And both come in under £360 for base models. Woah.




Samsung Galaxy Note 5/S6 Edge Plus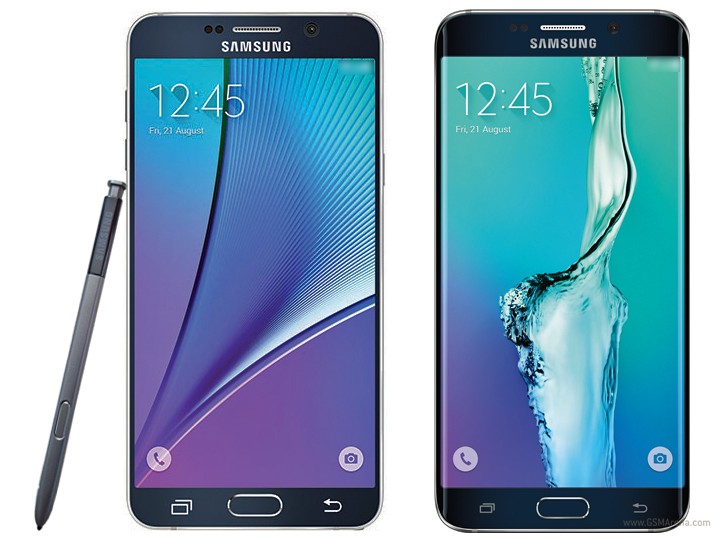 Courtesy of @evleaks through GSMArena.com
Note 5 on the left; S6 Edge Plus on the right
Expected release date: August/September
Samsung has scheduled an event for 13th August to announce its next Galaxy smartphone(s). It definitely looks like the Note 5 will be unveiled and there have also been strong rumours that Samsung will also reveal a Galaxy S6 Edge Plus (basically a bigger S6 Edge).
A smorgasbord of photos were leaked recently apparently showing the Note 5 with an updated metal body and glass back, taking cues from the S6. The back cover no longer appears to come off, like in past generations, so don't expect a removable battery. With regards to the micro SD slot, rumours are conflicting as to whether the Note will have one. My estimation is that it won't - how could it work with a non removable back cover?
Power wise, it looks like the Note 5 will ditch a Qualcomm processor, like the S6, and go with Samsung's own top-of-the-line Exynos 7420 and 4GB RAM so you won't be wanting for more processor power. Expect a fingerprint scanner and improvements to the S-Pen and productivity software running aboard the Note 5 to allow for greater pen functionality and multi-tasking. The camera is expected to be different from the S6 with the Note 5 using Samsung's own ISOCELL sensor which has been refined, offering smaller microns for better detail in a smaller body. As a result, it's possible/likely that the camera will not protrude out from the back or certainly not as much as previous generations.
The battery is said to be given a significant boost, from the 3220 mAh battery in the Note 4 to a 4000-4100 mAh unit in the Note 5. I'm not sure whether I believe that as the phone would have to become a fair bit thicker but I do expect it to increase from the 3220 mAh figure. Do expect wireless charging capabilities as this is already a feature on the S6. Rumours about the screen go from the standard 5.7" QHD display as found on the Note 4 to a 5.89" 4K display.
iPhone 6s/6s Plus
Expected release date: September
A new iPhone is a given in September seeing as Apple has been releasing them at this time of year for a fair few years now. The 's' versions are also a given, as it fits in with Apple's iPhone release cycles.
As it's an 's' version, expect refinement rather than revolution when comparing to the iPhone 6. That's fine and it should be for the majority of 5s users looking to upgrade at the end of their 24-month contract.
Design wise, expect the same size devices as the 6/6 Plus and probably the same display as well. Most changes will be under the hood with an updated A9 processor, a bump to 2GB of RAM to better handle multi-tasking and the full debut of iOS 9. An increasing amount of rumours have also speculated that the 6s/6s Plus will see the debut of force touch on an iPhone seeing as it has already been implemented on the Apple Watch.
Regarding the camera, leaks have pointed to a 12MP shooter on both devices, with Apple finally ditching 8MP. This would make sense if Apple wants their phones to shoot 4K video which is now practically standard in today's flagships. It's also possible that the 6s could feature OIS (optical image stabilisation) which was found only on the 6 Plus, but not the 6,
Notable mentions
I'd also like to mention the new Nexus which usually comes out in October/November. Not much is known about this Google-sponsored phone, there isn't even consensus about who's manufacturing it, whether it is LG, Motorola or Huawei. Whoever is making it, expect an unadulterated version of Android on it, most likely being the full debut of Android M, a fingerprint scanner and an improved camera (about time).
The
Sony Xperia Z5
is also being rumoured and would fall in line with their 6 month release cycle of flagship smartphones. Sony has scheduled a Xperia press event for 2nd September at IFA, most likely being the announcement of the Z5 and would most likely be released in latter September. Reports and leaks are sketchy at this point but expect a larger display, improved internals and camera. But who really knows at this point.
Which smartphone are you most looking forward to?
What are your must have features in a smartphone?